Cloud Security Risk Assessment
While use of Cloud brings promise of many benefits such as, rapid provisioning, elastic scaling and reduction in capital expenditure, it is critical that any organisations fully understands the associated security risks with the use of any cloud services.
The loss of IT Governance, Data Sovereignty and Privacy concerns (Safe- Harbour/Privacy-Shield), and technical risks such as hypervisor vulnerabilities and inadequate separation between shared infrastructure, are all risks which simply do not apply to traditional on premise IT services.
Whether you are considering use of well-known Software as a Service (SaaS) such as Salesforce, Office 365 or Google Apps, or you are seeking to build your own hybrid private cloud using a combination of Cloud Services such as Microsoft Azure, Amazon Web Services and on premise infrastructure, each brings a new set of risks which need to be assessed.
---
Fast Track Your Cloud Adoption
Request a Free Cloud Security Consultation.
---
Overview
Our Cloud Security Risk Assessment enhanced with threat modelling, provides your organisation with a detailed view of the exact attack surface, and risk profile of any Cloud Service in scope of assessment, enabling you to more clearly prioritise your information security efforts.
Organisations performing Threat Modelling along with Risk Management are much better placed to assess the potential Cyber Security risks to their business and understand which sensitive company data and systems can be migrated to the cloud.
Lead by our Certified Cloud Security Architect, the use of threat modelling along with a risk assessment approach enables us to focus much more clearly on the risk profile of your organisation, with identification of the threats that are applicable to your particular organisation, rather than simply regulatory compliance.
Once we have provided a detailed view of the threats to the cloud service, our consultants will then work closely with your business to assess the impact of these on the specific data assets.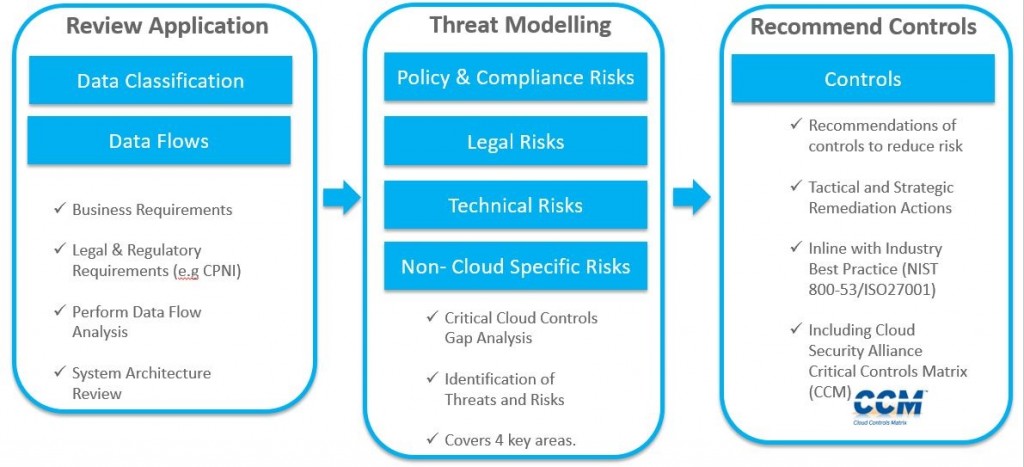 Our Cloud Security Risk Assessment has been created taking best practice approaches from the Microsoft STRIDE Threat Modelling Methodology, along with control recommendations from both the Cloud Security Alliance Critical Controls Matrix (CCM) and NIST, the leading authorities on Cloud Security Risk and Controls.
Optionally, the Cloud Security Risk Assessment, can also include a technical security assessment of the Cloud Security Service outlining demonstrable technical vulnerabilities within the applications and/or infrastructure.
The outcome of the Cloud Security Risk Assessment will provide your organisation with a board-level Risk Assessment report on the risks facing your organisation with the adoption of the Cloud Service, a prioritised list of actionable remediation actions to enable your organisation to a move to a more acceptable level of risk.
Speak with us today, to learn how we can  help you measure the risks, and embrace the benefits of migrating to the cloud, securely.
Optional Related Services
Cloud Security Strategy Definition
Cloud Security Solution Integration